So, Here we show you some the Best Mouse for small hands according to the Best feature. The idea of the computer mouse hatched in the year 1964 from the great mind of Douglas Englebart. It was just a block of wooden one or two buttons on the top. The mouse's design went through a significant evolution curve to reach the point where it is now. The evolution occurred with the escalating use of computers and a faster pace of the digital world that demands efficiency.
In the light of improving efficiency, one surely doesn't want to end up paying the price of tendonitis, carpal tunnel syndrome, and a range of other physical complications with the use of a poorly designed syndrome.
A mouse designed to fit the human hands gives high control and helps achieve peak productivity without compromising comfort.
Computer mice nowadays come in a plethora of shapes, sizes, and functions, making the process of selection intimidating. The difficulty level adds to selection if you have small hands, as small mice with power-packed features are tough to find. This list is to save you from long hours of search for the best mouse for small hands.
List of Top 11 Best Mouse For Small Hands 2021
| | | |
| --- | --- | --- |
| | | |
| Logitech B170 Wireless Mouse | | |
| More and better Vertical Wireless Ergonomic Mouse | | |
| Lenovo 300 Wired USB Mouse | | |
| Logitech M221 Wireless Mouse | | |
| Portronics Toad 12 POR-986 | | |
| | | |
| Logitech M90 Wired USB Mouse | | |
| | | |
| Lenovo GY50R91293 400 mouse | | |
| Logitech M331 silent plus | | |
| Logitech M235 Wireless Mouse | | |
The Logitech B170 mouse is a mouse packed with distinctive features. The Logitech B170 offers great value for money and is highly reliable and long lasting. The mouse operates on the latest 2.4 GHz wireless technology and shows promising performance.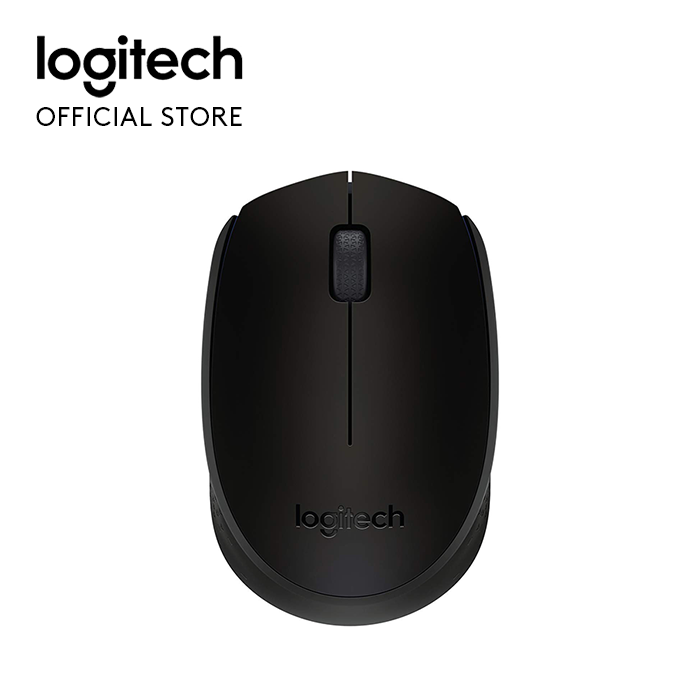 Wireless mouse with reliable connection with up to a range of 10m connectivity range. This is possible only with the help plug-in USB mini-receiver.
Also has 1000dpi
Compatible with a wide range of the operating system, including Windows, Mac OS, Chrome OS
The optical tracking facility offers precise movement on any surface.
Long-lasting battery life, which extends for about 12 months
Dimensions: 97.7 mm x 61.5 mm x 35.2 mm
Escape from the hassle of a wired mouse
The Logitech B170 wireless mouse fits the description of a small hand mouse perfectly.
Vertical mice are for the 21st century. It offers great comfort through its vertical ergonomic design that fits your hands and wrists perfectly. Are you tired of mice with traditional grips that flow out of your hand? It is time to take a break from the conventional grips and try something specially designed for your hands.
Designed based on the scientific principle of ergonomics to promote healthy wrist movements and prevent overall strain
Multi-faceted mouse with adjustable DPI- 1000 / 1200 / 1600 DPI Resolution and optical tracking technology for higher sensitivity than standard optical mice.
It comes with a built-in 350mAh rechargeable battery to prevent the piling of used batteries.
Wireless mouse with a 2.4G USB receiver which you can plug-in and forget
Dimensions are 4.0 x 2.7 x 2.3 in
It is compatible only with Windows.
The mouse comprises six small buttons, including two Internet navigational buttons, back and forward button located on the side.
This mouse is highly popular as the best mouse for small hands due to its ergonomic design. The mouse might feel uncomfortable to use initially, but you can experience real comfort with prolonged usage.
Are you looking for a budget-friendly mouse that fits perfectly within your small hands? If yes, the Lenovo 300 is the one for you. Escape the hassle of wired mice with this power-packed USB mouse. Here is a laundry list of features.
Simple, space-saving design that is perfect for a range of things, including office, education sectors, designing, basic gaming, etc
It has a 1600 dpi optical sensor to provide a smooth flow.
The USB supports a range of devices, including laptop, desktop, or CPU
The Dimensions are 11.15 x 3.38 x 6.22 cm
One year warranty provided by the manufacturer
It consists of three buttons- the right, left, and scroll bar like any other standard mouse.
The Lenovo 300 is an ergonomic masterpiece that provides relief to your fingers all day long. Go for this mouse if you want your mouse to sing the style of minimalism.
Does the sound of clicks irritate you along with your day-long work? If you nod in agreement to this question, then without any doubt, go for the Logitech M221. The M221 mouse is known as "quiet as a mouse." Experience the same click but just in mute. The frame made of high-quality material Helps to reduce distractions and scale productivity.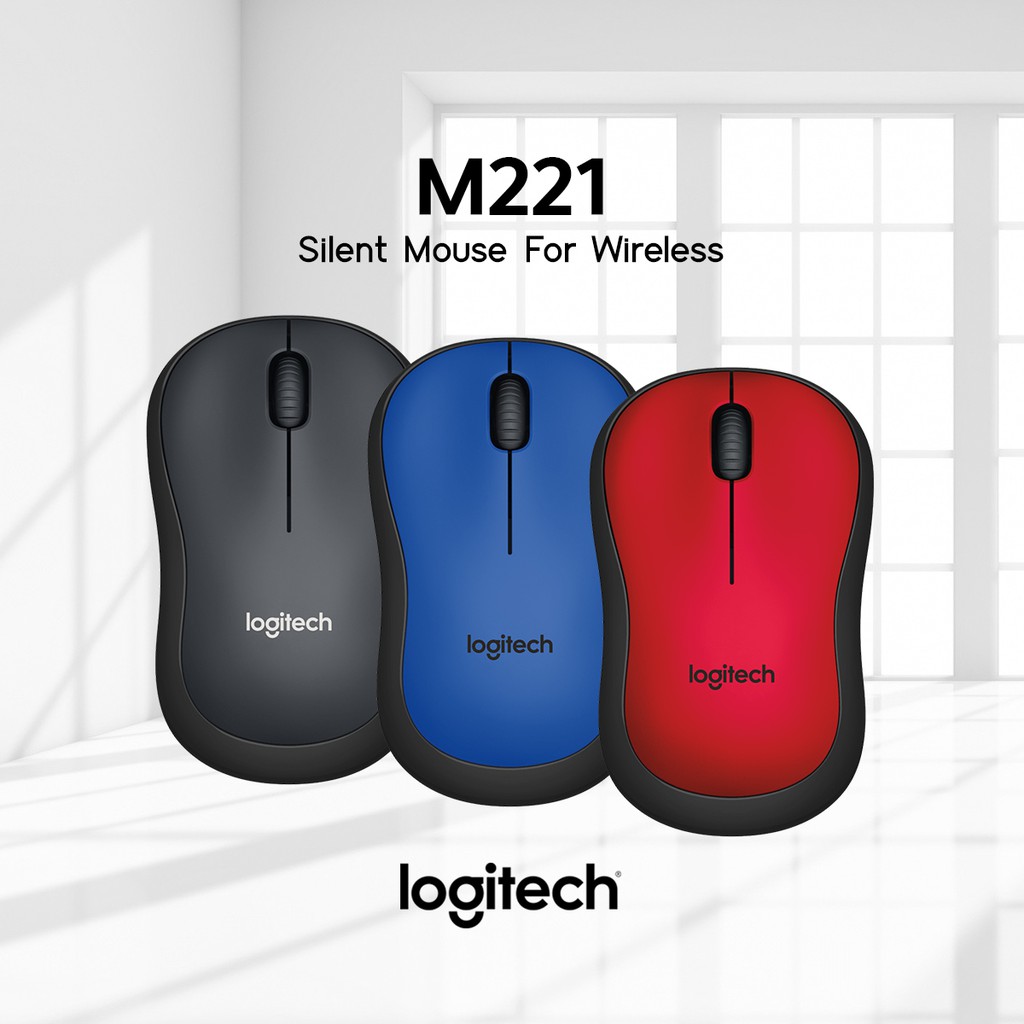 The ultra-quiet mouse with 90 percent sound reduction to help you concentrate without missing a beat
Ambidextrous design to promote a natural position of either hand
It comes with a USB receiver that provides a 10m wireless connection range.
The small size allows you to toss it in the bag and take it on the go.
the Dimensions of the mouse are 6 x 3.9 x 9.9 cm
Compatible with a wide range of platforms such as Windows, latest Mac OS X, Chrome OS, Linux Kernel 2.6+2
Extended life for up to 18-months
You can add a splash color to your desk with vibrant color variants such as red and blue. Opt for this high-performance, durable and feature-packed mouse to work throughout the day without any distractions.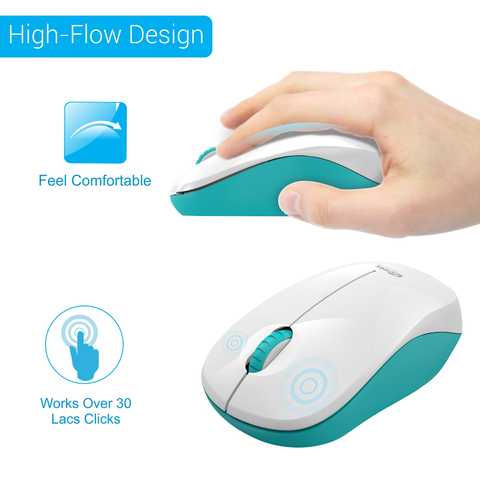 The Portronics Toad 12 POR-986 qualifies as a budget-friendly mouse with a load of features. The ergonomic design of the mouse offers comfortable usage for prolonged work hours. The small size of the mouse makes it easy to carry.
3-D ergonomic design for strain-less usage
Ambidextrous design suits comfortable use in both right and left hand
2.4 G USB for reliable connection with a connection range of 10m
the dimensions are 9 x 8 x 4.5 cm
Supports laptops, desktops, and Notebooks with Windows and Mac OS X operating systems
A nominal battery life that extends up to 6 months
Six months warranty
The Portronics Toad 12 POR-986 is an excellent choice under the budget-friendly category. Though the features don't match other mice on the list, it offers the best value for money.
Built based on stringent standards and curated guidelines, the HP X1000 Wired Mouse is the best blend of top-notch features and sleek design. Coming from one of the best computer and notebook manufacturers, the HP X1000 Wired works excellent for people with small hands.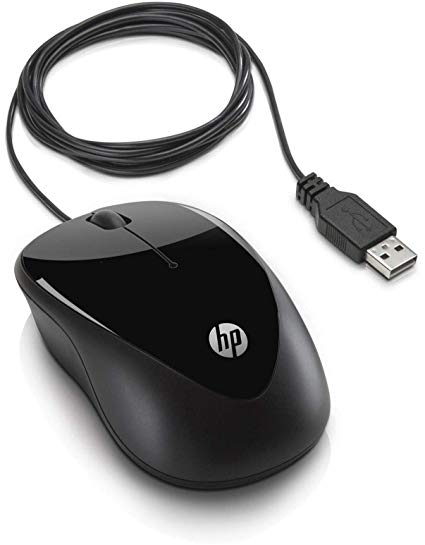 A sleek and sophisticated design that goes well with any setting
As it is a wired mouse, just plug-in the cable into the device
The Dimensions are 5.7 x 9.5 x 3.9 cm
1600 dpi optical tracking feature
Designed based on standard guidelines
Three buttons for high productivity
Two-years warranty
It almost works on any surface.
The HP X1000 Wired Mouse sports the latest technology for smooth performance. The HP X1000 mouse is an excellent option for those who are looking for branded and the best mouse for small hands.
The Logitech M90 Wired USB Mouse is another excellent addition from Logitech as the best mouse for small hands. The high-definition optical tracking feature gives Goosebumps to the user with a responsive build, smooth control, and precise tracking. You need not install any software to use the mouse; all you have to do is just plug-in the cable into the device's USB port. The ratchet wheel offers smooth scrolling through pages and tabs.
Comfortable basic design
It has an Ambidextrous design for use by both right and left-handed people.
1000 dpi optical tracking for smooth motion, precise monitoring, and facile text selection
Offers compatibility for a range of operating systems, including Windows, Mac, Chrome OS, and Linux
Dimensions: 430.71 x 403.15 x 418.5 cm
The Logitech M90 is known for its outstanding level of control and phenomenal performance without any lag.
The iBallFreego G100 adds value to your system. The sleek and elegant finish of the mouse elevates the style of any setup. The wireless mouse saves you from the hassle of wired mice. The mouse connects instantly with the device. It fits comfortably in small hands without leading to hand fatigue. The streamlined design offers easy maneuverability and instant response to clicks.
Simple, ambidextrous design for both hand usage
Customizable CPI: 800/1200/1600
It comes with a nano USB receiver with a range of 10m (33 feet)
Supports multiple operating systems including Windows, Mac, Chrome, and more
The battery life offers 16-months according to lab-tests
In-built power safer mode that goes into sleep mode when left idle for an extended period
the Dimensions are 10.1 x 6.3 x 3.7 cm
The iBallFreego G100 offers excellent control for high-speed users. The ergonomic design does a great job in not giving you hand strain even after hours of usage. Get this best mouse for small hands after thorough research.
The Lenovo GY50R91293 400 wireless mouse gives you high portability as it's small, handy, and easy to pack. Don't get fooled by the simple design of the mouse. The minimalist look of the mouse is not a reflection of its feature set. The Lenovo GY50R91293 400 is a mouse that gives it all. The mouse offers it is d reliable connection for increased productivity and efficiency.
Powerfully sculpted ergonomic design cares for your hand more than you do
2.4 GHz USB receiver with 10m connection range
1200 Dpi sensor
The mouse doesn't strain your hands even on the days when you burn the midnight oil.
The rigorous test standards have proved that it offers a battery life of up to 12 months.
Both buttons easily survive through 8 million clicks.
Gives support for Windows above version 7
The Dimensions are 11.9 x 39 x 6.5 cm
This impressively durable mouse has you settled for two years without any lag. You can choose the Lenovo GY50R91293 400 mouse if you have a long working schedule.
Unlike other Logitech models, the M331 is a premium mouse with top-notch features. If you don't want your mouse's rhythm to interfere with your productivity, there is no other better choice than the Logitech M331. You can enjoy the same click without the round. The Nano USB receiver is convenient as you can plug and start using it.
Ergonomically designed for right-hand users.
Don't worry about long workdays because the mouse doesn't let you worry.
Compatible with a plethora of OS including Windows 8, Windows RT, Windows 7 Mac OS X 10.5, later Chrome OSTM, Mac and Linux Kernel 2.6+2
2.4GHz USB wireless connection with a range of 10 meters
The best part about Logitech M331 is its battery life, which extends for up to 24 months.
1000 Dpi optical sensor technology
The Dimensions are 6.79 x 3.84 x 10.54 cm
Silent buttons offering up to 90 percent sound control
Feature-packed mice long-hours workers. The rubber build offers a smooth grip without hurting your hand. Go for this premium mouse for powering through the day with high productivity.
The Logitech M235 mouse, with its advanced technology and robust, ergonomic design, makes long hours of work tireless. It helps to improve your productivity without causing any strain to your hands and wrists. The mouse gives you freedom of movement. It is a practical mouse that allows you to navigate seamlessly through your device. The compact size and streamlined design make it the best mouse for small hands.
Contoured design to maintain a comfortable posture of hands
Elegant and long-lasting
lasts for up to a year
travel friendly
precise clicking and surfing with Logitech's optical tracking
2.4 GHz wireless connection with connectivity range up to 10m
Compatible with the latest Windows systems, Mac OS X 10.5 and later, and Linux
1000 dpi optical sensor
the dimensions are 9.5 x 5.5 x 3.86 cm
Thanks to the sturdy body and strong build that extends the life of the mouse. Thanks to Logitech's advanced optical tracking that provides high-level accuracy. The Logitech's mouse is the perfect blend of firm structure, a comfortable design, and a travel-friendly design.
Also Read
How to choose the best mouse for small hands?
There are thousands of mice out there in the market. When it comes to selecting the ideal mouse, it leaves the buyer perplexed. Here is something to help you make an informed decision while buying Best Mouse for small Hands.
Define the purpose of the mouse
To decide what type of mouse you want, answer the question- What is your significant activity using the mouse? If your answer is casual browsing, then a regular mouse with the basic feature is a great option. If you are a heavy gamer, choose a gaming mouse with a high performance and comfortable design. If you work for long hours, an ergonomic mouse designed to reduce hand strain and various complications such as muscle tear and tendonitis is a perfect choice.
Size and shape of the mouse
A mouse comes in a range of sizes, from small to large. The size of the mouse refers to the type of hand it fits. For people with smaller hands, a compact and sleek mouse is a perfect choice. The buttons are easily accessible in a compact mouse. If the mouse has ergonomic finger rest, it is well and good.
The controls refer to buttons on the mouse. A standard mouse has three buttons- left, right, and the scroll button. A gaming button will have more buttons other than the traditional mouse buttons. In the center, a dpi button for dpi adjustment and navigation buttons on the side of the thumb. When you are going for a small gaming mouse, make sure that all controls are easily accessible.
People with small hands tend to have faster motion; hence make sure the cursor moves precisely in the way you want it. It shouldn't lag when more rapid indications are given. This should be your first priority if you are looking for best mouse for small hands
A wireless mouse works great for working employees, while for gamers, the wired mouse is the best option s it offers a reliable connection. When going for a wireless mouse, look into it that it is well-established and popular. Also, pay keen attention to the battery life of the wireless mouse.
The durability of the mouse goes without saying. A mouse that lasts longer is great for working as it is comfortable for you. Look for the manufacturer warranty of the mouse. Choose a mouse that has at least one year warranty. Look for buttons that can withstand millions of clicks.
The older mice had a ball and infrared sensor to measure the movement of the mouse. The latest mice use two types of lights to gauge the precise movement of the mouse. The optical mice sensor works excellent on surfaces such as fabric and non-glossy materials. The laser sensors are more accurate and work great on almost any surface.
The LED lights are reserved mostly for gaming mice. The LED lights add excitement to the game and make the gaming environment fun-filled.
You can choose the most promising mouse based on the factors mentioned above.
At the End
Don't get overwhelmed by tons of mice out there in the market. When it comes to selecting the best mouse for small hands, pay attention to the size of your palm and the size of the mouse. A well-informed decision is all you have to do to get your hands on the perfect mouse.
Hope you all love the article on best mouse for small hands and if you have any query and any more products to include you can comment and also you can Contact Us » Best Deal Amazon (bestdealever.in)
Thanks for reading…