TVS are our best source of entertainment till now. No one in this world who doesn't enjoy watching their favourite movie or tv serial lying on a comfortable couch. Some people are addicted to it, that's why they want their TV to comprise the best features possible so that while rejoicing their precious time on television nothing interrupts their privacy.
LED TVs give high image and sound quality. You can enjoy your favourite show on the huge screens. Today we will talk about the Top 10 LED TV Brands In India 2021 which are a must to buy.
Top 10 LED TV Brands In India 2021
1. Samsung 32 inches Wondertainment Series HD Ready LED Smart TV
Samsung has launched its Wondertainment series of LED TVs. They have included three TVs in their Wondertainment series: Samsung 80 cm (32 inches) Wondertainment Series HD Ready Smart TV (2020 Model), Samsung 138 cm (55 inches) Wondertainment Series Ultra HD LED Smart TV (2020 Model) and Samsung 163 cm (65 inches) Wondertainment Series Ultra HD LED Smart Tv (2020 Model).
All of them are rooted in high techy features. We have chosen one of them for the reviewing which is Samsung 32 inch Wondertainment Series HD Ready LED Smart TV. Right now it's holding 4 out of 5 stars. Let's see if it's worth buying or not.
Display :
As suggested from the name it's a LED TV with LED display. You will get a pixel resolution of 1366×768 and also the digital video format which will enhance your experience. The display size is 32 inches.
Refresh Rate :
It has a refresh rate of about 60.0 hertz with a viewing angle of 178 degrees. Refresh Rate must start from a minimum value of 60.0 Hertz. So, you can say that the refresh rate is good here but we were expecting more from Samsung.
Colour contrast :
Standard contrast ratio is available in this model. An aspect ratio of 16:9 is seen here with a brightness level of high.
Sound and Image Quality :
Samsung Wondertainment LED TV gives a rich picture and audio quality because there are an AVI video format and the supported video formats are MPEG1/2/4, DivX1.3.11, H.264, H.265, VC-1, FLV, RM, JPEG, AVS+, HEVC.
The sound output is 20 watt with mp3 audio and WMA audio format. You will get 2 speakers with Dolby Digital Plus sound configuration.
Also Read : Top 10 Android TV's In India
Details :
Samsung Wondertainment runs on the Operating system of Tizen and takes up the Hardware Interface of USB & HDMI. It utilizes the Mali400 for the Graphics Co-Processing making animation quality better and removes the delay. It has a Personal Computer mode which can convert your tv into a quintessential PC. For Connectivity, there are 2 HDMI ports followed by a USB port.
1. How do we know if Samsung's Led' TV is genuine or fake?
First and foremost, most LED TVs and consumer appliances are packed in a brown box. The fake ones are packed in multicoloured boxes with the boost full feature on top of them. Secondly, the fake ones would not be having any warranty card for any consumer manual inside the box.
Third, the packing box must carry OEM's toll-free contact number, service centre address and brand logo. Last but not the least, the model number and the product serial number on the box and on the product should be the same. Also, these two numbers can be registered on the manufacturer's website for a well-grounded confirmation that the product is not fake.
2. How do I use DTV Bluetooth on a Samsung LED TV that is not a smart TV?
First test the Tvs Bluetooth model.
1.Turn on the TV. The Bluetooth model is active when the TV is turned on.
2.Using a cell phone or other device with Bluetooth capabilities, activate the Bluetooth feature on the phone or other device used for this troubleshooting and set it to search for Bluetooth signals.
3.Verify that DTV Bluetooth (or similar message) appears on the device, indicating that the TV is a recognized Bluetooth device.
Turn off the TV and repeat these steps. The "DTVBluetooth" device should no longer appear. During the process again verify that the signal came from that particular TVS Bluetooth module.
3. What apps are preloaded?
This model has pre-installed apps like YouTube, Hotstar, Amazon Prime and many more. Also, you can download apps using smart thing apps. For more detail, you can get in touch with us on the Samsung toll-free number. Hope this is of help
2. OnePlus Y series 80 cm (32 inches) HD Ready LED Smart Android TV 32Y1 (2020 Model)
We were already familiar with the OnePlus phones. Now the company has launched the OnePlus Y Series HD Ready LED Smart Android TV 32Y1and 43Y1. The price range is really interesting here because they are available in the market under 20,000. It's unbelievable with this brand. You can pay for this fascinating product of OnePlus or just purchase it on no-cost EMI. There will be no charge for the installation; it's absolutely free.
Also Read : Top 10 Best Water Purifiers In India For Protection From Water-Borne Diseases
Display :
The OnePlus Y series comes in LED display with 1366 × 768 pixel resolution. They have HD ready digital video format. The screen length is 32 inches.
Refresh Rate :
You will get a refresh rate of 60 Hertz and the viewing angle is 178 degrees which are believed as decent.
Colour contrast :
Colour contrast ratio is 5000:1 coming next high brightness with a high colour range of DCI-P3 93% featuring a 20% wider colour gamut – authentic cinematic colour with the OnePlus TV Y series.
Sound and Image Quality :
Video Format is DVD and supported Video Formats are AVI & mp4 delivers premium quality content.
Sound output is 20 watt following 2 speakers giving powerful immersive audio. OnePlus Y series consists of Dolby audio which delivers crystal clear sound quality. Audio formats are mp3 audio & WMA.
Also Read : Best 10 Voltas AC In India
Details :
OnePlus Y series supports apps like Netflix, Youtube, Prime Video including connectivity of 2 HDMI ports, 2 USB ports with a Bluetooth and WiFi connectivity. To enrich the gaming quality there is Mali 470 triple-core graphic processor. Oxygen play will reduce your time looking for watchable content. The operating system is Android tv.
Hardware interface: USB, HDMI
Google Assistant is available in 8 other languages with Hindi and English.
1. Do we need to purchase a wall Mount during the installation of tv? During installation, the service person brings a wall mount with him? How much does it cost?
1.Do we need to purchase a wall Mount during the installation of tv? During installation, the service person brings a wall mount with him? How much does it cost?
2. When will this TV be available for normal Amazon users other than prime members?
It's open in flash sale. Go get it as soon as possible and enjoy your Amazon time without being a prime member.
3. Can I return the product if I don't like the sound quality?
No, you can't but you can do one thing you can replace the OnePlus TV with some other OnePlus product.
3. Panasonic 100 cm (40 inches) Full HD Android Smart LED TV TH – 40HS450DX (Black) (2020 Model)
Ever thought that what-if the non-budget brand Panasonic dispatches a budget-friendly TV in the market. Giving rise to our imaginations for real Panasonic has launched an LED TV for 20,000. This is the HS450 series which offers great user experience. In just 20,000 we are getting Panasonic LED TV and their service which is really a value for money deal.
Display :
The bezel-less design gives Tremendous looks. Visible screen diagonal is 40″/ 102 cm with Full HD display. Resolution is 1920×1080. The display size will be 40 inches.
Refresh Rate :
This Panasonic LED TV has a Refresh Rate of 60.0 Hertz with 178 degrees viewing angle and 16:9 image aspect ratio.
Colour contrast :
Colour contrast will be standard with high image brightness giving raw and bright colours.
Sound and Image Quality :
This Panasonic LED TV carries an IPS Panel with a great viewing angle and will get to see the support of 8 Bit Panel. To enhance the picture quality Panasonic has used Vivid Digital Pro which will manage the brightness, sharpness and contrast| Multi HDR|
The Panasonic incorporates 16 watt sound output followed by V-audio bringing sharp and audible sound.
Also Read : Top 10 Power Banks In India
Details :
The Addictive Backlight Dimming advances dark scenes creating a perfect cinematic experience. Panasonic has chosen ARM CA-53 Quad-Core as the processor. We will see an Android operating system here. For watching mobile content on the TV chrome inbuilt is provided followed by the support of Google Assistant.
Android Version: 9 Pie
1 GB RAM| 8 GB internal storage
1. I purchased this TV but Prime video is not playing, please help me, even unable to connect to Chromecast.
Call the service centre and get it checked then raise a return request as soon as possible.
2. Is the Wall mount provided with the TV or do we have to buy one?
Fixed Wall mount is provided. If you need an extra flexible one, you are free to buy from outside.
3. How can I connect a Sony music system based on 2 speakers on this TV?
TV has 2 HDMI ports, also there will be 1 1.5 Jack for SD channels setup box video, audio input if you want to feel awesome sound system at least you have Bluetooth connectivity other than HDMI connectivity. This TV brings you super Dolby Digital output.
Also Read : Best Streaming Device For TV In India
4. Vu 108 cm (43 inches) Full HD UltraAndroid LED TV 43GA (Black)
Vu Full HD UltraAndroid LED TV launched in 2019, the reason it's still in the list because of its massive display size and extraordinary features. You can see every picture detail with the intense contrast provided by Vu. They have also included something for gamers. So that they can sense the thrilling performance with PC and Gaming mode.
Display :
There is matt black finish plastic used on the bezel. Screen Resolution is 1920×1080. Maximum height is 60.7 cm including the stands. The back panel is made of plastic with a good texture. The display is of A+ Grade LED panel with Adaptive contrast and MPEG Noise reduction.
Refresh Rate :
60.0 Hertz of Refresh Rate is provided including 178-degree viewing angle. Image Aspect ratio is 16:9.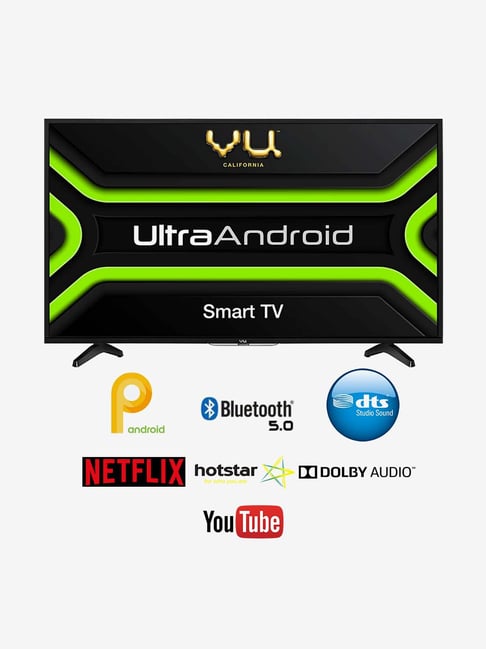 Colour contrast :
Colour contrast is mentioned to be Standard in this model with a high-level brightness. Adaptive contrast with clearer edge transitions.
Sound and Image Quality :
It produces sharp images with vibrant colour. Supports mounting of wall mount and Media format is AVI, DVD, MPEG, WAV, Ble-ray.
The speakers are available on the bottom part of the TV. The speakers are of 12 Watt. DTS Studio Sound Speaker Surround Sound Channel Configuration and supports Audio Format Mp3 audio and WMA.
Details :
It runs on Android 9.0 pie. USB and HDMI are provided for the Hardware interface. Two USB ports are provided. The connector type is USB Built-in wifi, HDMI. Memory storage capacity is 8 GB and RAM Memory Installed Size is 1 GB. Dual-Core mali 470 MP is available for Graphic Coprocessor bestowing a favourable experience for gamers.
Special features are Google play store | Google Ecosystem (Movie, TV, Music, Games) | Google Games | Chromecast Built-in | Bluetooth 5.0.
1. Is it good to buy Vu led TV 32″ HD smart TV?
Absolutely Yes, VU 32S7545 is a finest and smart TV at 21k. It has USB, HDMI, headphone and PC conductively along with web browser, YouTube, Netflix and many more apps.
Other premium brands like Sony and Samsung are costing almost double for sale feature 32″ HD smart TV.
2. Can I buy a Vu brand TV for long term usage?
Absolutely yes I am using Vu TV 40k 16 basic 40″ TV for the last 4.5 years I had to only change remote last year as it was dropped.
3. Is installation still available during the COVID situation?
Amazon will arrange it's partner Digicare for installation, but Technicians from Digicare will give some false reason and close the service request without installation.
5. Philips 108 cm (43 inches) 5800 Series Full HD LED Smart TV 43PFT5813S/94 (Black)
Now watch your favourite show on the amazing series of Full HD LED Smart TV of Philips which makes your home a theatre with the big dimensions. Modern and HD screens give users a more immersive viewing experience. This Ultra Slim Full HD LED Smart TV is accessible at a budget-friendly price of 25000.
Also Read : Best Men Shirts Brands
Display :
The display has a visible screen diagonal of 43″ / 110 cm with Full HD resolution of 1920×1080. Display backlight technology used by the TV is LED in this 43 inches modern Philips.
Refresh Rate :
Observed Refresh Rate is 60 Hertz with a 178-degree viewing angle heeded by 16:9 image aspect ratio.
Colour contrast :
Philips provides an Image contrast ratio of 1200:1 accompanied by 300 nits of standard Image brightness.
Sound and Image Quality :
Philips Pixel Plus HD engine optimizes picture quality to deliver crisp images with beautiful contrast. Supported image type is PNG and JPEG including display type to be mentioned as A+. Media Format: MPEG.
In addition to it, for a promising audio quality, there is 20-Watt audio Wattage provided with box speakers and Mp3 supported audio format. The DTS HD will optimize sound processing by preserving the original sound content so that you can enjoy a better tone from your speakers.
Details :
It runs on the operating system SAPHI including USB & HDMI for the Hardware Interface. To make it a perfect place for gamers Quad-Core CA7 and Mali-450 MP2 are used in the Graphics. The remote control type is mentioned to be IR, Bluetooth. 2  USB and HDMI ports are provided. Connector classification is USB, Built-in Wi-fi, HDMI. Miracast Built-in from your smart device to your Smart TV.
1. Does it run on Android? Can I install additional apps?
It's not android but yes you can install apps but limited ones. So think before buying any product and gather proper information regarding it.
2. Does it supports Zee5 and Sony liv?
No, you cannot install any additional open-source apps like an android. It has limited apps like YouTube, prime. You would have to use firestick.
3. Why there is no after-sales service?
There is. You can complain about that. Customer service is recommended. Someone will attend from there to fix your problem but it takes time.
6. LG 80 cm (32 inches) HD Ready Smart LED TV Model 32LM563BPTC (Dark Iron Grey) (2020)
Now binge-watching Netflix, Disney+ Hotstar, Amazon Prime is one click away in the New LG Smart LED TV. Inspect every scene and delicate portions with the advanced image processor which adjusts the colour for richer natural images. Available in offline and online stores in its Dark iron Grey colour.
Display :
This LG model consists of a thin bezel and stylish finish work with a flat and LED display technology. Standing screen display size is 32 inches escorted by 1366×768 pixels of Screen Resolution. Diagonal length is 80 cm.
Refresh Rate :
Refresh Rate of 50 Hertz is available with a wide viewing angle of 178 degrees. Image Aspect Ratio is provided as 16:9.
Colour contrast :
You will get an Image Contrast Ratio of 10,000,000:1 popular as Dynamic Contrast Ratio splitting high brightness.
Sound and Image Quality :
Enjoy the beauty of nature's true colour on your TV screen with a dynamic colour enhancer and multi-HDR format, including HDR10 and HLG, coupled with LG's dynamic scene by scene adjustment technology.
Supported Image Type: PSD, GIF, PNG, JPEG.
Satisfies your Sound expectation by putting in Dolby Audio for a Movie like sound experience embodying DTS Virtual: X for flawless sound. Audio Wattage will be 10 Watts with a supported audio format of Mp3 audio & WMA.
Details :
This LG model Runs on the Operating System of WebOS with Hardware Interface of USB, HDMI. LG has used its own Graphics Coprocessor recognized as the LG Graphics Processor. Space available for Memory storage is 4GB and for RAM memory 1GB.
Total USB ports counted to be one. Blu-ray, AVI, MPEG, WMA, DVD, WAV all are available for the Media format. Maintain Maximum Operating distance of 7 feet. Battery cell composition: Alkaline.
1. Will it supports Alexa after buying a smart remote??
No, you have to add Amazon TV stick or MI Smart Box (I prefer), this television is fantastic, but you will not get all the apps because it is not Android. Picture quality and sound quality is truly good.
2. What is the power consumption of a 32″ LED TV per day?
. LED TVs are the latest technology and so most efficient compared to old plasma or LCD or CRT Technology. As energy star rating is available for models with low power consumption and thus economical. Standard LED TV of 32 inches size is 50W-55W. Daily If Tv is used for 10 hours daily consumption is 500 Watt per hour.
3. Why is my LG TV stuck on the LG logo?
If the LG TV is stuck at LG logo this means that TV software is not working properly or maybe the OS is not booting.
7. Sony Bravia 80.1 cm (32 inches) Full HD LED Smart TV KLV-32W672G (Black)
The darkest and brighter picture creation TV has launched its best piece. Sony Bravia is here with the collection of sensational qualities and dynamic details. Owning 4.5 out of 5 stars it is ready to rule our heart. Right now Sony Bravia is available for 29,000. If you can go a little high on a budget assign this one.
Display :
Attractive finishing of Matt black and glossy which gives a unique look. Extra slim body making it lightweight. Full HD Screen Resolution is 1930×1080 with Resolution of 1080p. Visible screen diagonal 32″/82.
Refresh Rate :
Refresh Rate is estimated at 50 Hertz which is quite unsatisfactory but the viewing angle is 178 degrees which is better. Image Aspect Ratio is 16:9.
Colour contrast :
Image Contrast Ratio is mentioned as LED TVs with a high brightness level giving clarity to pictures.
Sound and Image Quality :
X-Reality Pro Display Engine is used to enable the best view possible whether you are surfing Youtube or watching DTH. Supported Image type is PNG and JPEG available for now.
Enable Clear Audio+ so you can enjoy every dialogue. For the base effect, a Built-in Woofer is added. Audio wattage is of 30 Wattage giving support to LPCM, DTS-CD, MPEG1 audio, layer3/ WMA/ V8/ FLAC.
Details :
This Sony model runs on an Operating System Of Linux Based with the Hardware Interface of USB, HDMI. The connector type is established on USB, Built-in Wi-fi and HDMI. Support the USB Tethering. Connectivity will be 2 HDMI ports to connect the set-top box, Blu Ray players, Gaming Console | 2 USB ports to connect hard drives and other USB devices.
1. Can I connect the Bluetooth transmitter to this TV and connect my wireless headphones?
Yes, if the Bluetooth transmitter has a "Headphone jack (AUX)" food connectivity then it can be connected to a TV that has only that audio output port apart from HDMI.
2. Is the Mount wall stand provided with this TV model?
First demo and installation are free with table top or Wall mount, post-purchase from Sony authorized dealer.
3. Can we see it in every direction? For example a side visible screen available?
TV can be seen from any direction it can be side or can be front, however, we recommend to view it from the front at define direction which is three times of the TV vertical screen size.
8. eAirtec 61cm (24 inches) HD Ready LED TV 24 DJ (Black) (2020 Model)
eAirtec is becoming popular day by day through their low budget TVs which are available online as well as offline. They have vowed to create innovative technologies with the principle of their customer's contentment in mind. eAirtec is providing Wide view, Box Speaker Sound, Energy-saving on-mode and many more features in just 10,000. It's just unbelievable.
Display :
This model features a 24-inch screen equipped with an IPS Panel, giving users broad visibility. It offers 4k Resolution using LED technology with A+ Zero dot panel. Screen Resolution will be 1366×768p and Visible Screen Diagonal will be 24″ / 61 cm.
Refresh Rate :
The Model is available in the Refresh Rate of 60 Hertz for seamless performance and Viewing angle will be 178 degrees including Premium Finish Design.
Colour contrast :
This LED-backlit TV offers a high light output with a dynamic contrast ratio of 200000:1, combined with a brightness of 250 NITS.
Sound and Image Quality :
With the LED display the View will be wider and sharper. They take the responsibility that the users enjoy vibrant clear detail images.
Equipped with a Box speaker sound system, it delivers rich and deeper sound quality with 20 Watts Audio Wattage and supported audio format of MP3, WAV, MKA.
Details :
Surrounded by a multitude of connectivity options, the television supports 2 HDMI inputs, 1 VGA port and 2 USB ports, allowing you to connect your laptop and gaming consoles. Hardware Interface: VGA, USB, HDMI, Headphone. Total USB ports are 2 and the Connector Type is VGA, USB, HDMI.
1. Can I connect This TV to a CC camera?
Yes, why not because it has via to via we can buy this product as CCTV monitor.
2. Can we connect this TV to our mobile?
No in this model you won't be able to connect the television with your mobile.
3. Is this a Wi-Fi connectable device?
No, because this is not any Smart TV yet the USB port will be still there for your help. You can insert firestick and connect.
9. TCL 100 cm (40 inches) Full HD Smart Certified Android LED TV 40S6500FS (Black) (2020)
Previous 2020 is a blast for launches of Premium quality Electronics and Gadgets. TCL has launched its Full HD Smart LED TV which is a Global Top 2 TV Corporation in 2018 by this. The sharp features and bigger screen increased its demands among Indian customers. Not only this, it is available at an attractive price range of 19,499.
Display :
A set up of pressure displays is seen. There is a Full HD Display view with the Screen Resolution of 1920×1080. A+ LED display is provided with HDR 10 for stunning details and accurate reproduction of light and dark shades. In addition to this, you will get Micro dimming and IPQ Engine.
Refresh Rate :
TCL is highly responsive with an enhanced Refresh Rate of 60 Hertz to deliver smoother animation to reduce hindrance of any shutter or motion blur. Experience wide viewing angles of 178 degrees.
Colour contrast :
This TCL TV provides an Image contrast ratio of 5000:1 emerged by high brightness for great contrast and vivid picture quality.
Sound and Image Quality :
They allow users to view next-level HDR content from all sources with that Micro dimming analyses the TV content in 512 separate zones, adjusting the brightness and darkness separately.
Built-in stereo box speaker with Dolby Audio provided for a rich, clear and powerful sound. Audio Wattage is of 20 Watts with support of Mp3 audio and WMA.
Details :
It runs on the Operating System of Android 9 TV in addition support of Hardware Interface of USB and HDMI are available. Mali 470 X 2 is there for Graphics Coprocessor. Connectivity of 2 HDMI ports to connect a set-top box, BluRay Players | 1 USB port to connect hard drives and other USB devices.
Prime video | Youtube | Netflix | Voice Search.
1. Does it supports Amazon, Hotstar and jio TV? Can we mirror an Android phone and play video?
First of all, it doesn't support Amazon. Yes, we can mirror an Android phone but still, Amazon Prime can't be mirrored.
2. Is it suitable for PS4?
Yes, it works perfectly there. I have never faced any issue till now.
3. Can I download any application available on Google Play Store?
Android TV has a separate set of apps supported by it in the Play Store, only those would be available. Still, you can try installing Apps using other third-party stores like aptiode and other all files.
10. Mi TV 4A Pro 108 cm (43 inches) Full HD Android LED TV (Black)
ThisMi TV Full HD display is available in the market in a slim black look. If you are a TV addict and in any circumstances can't compromise with it then I highly recommend choosing MI is the best decision. This TV provides an incredible level of detail and colour fidelity for your entertainment purpose. Right now available in online stores for around 23,000.
Display :
Equipped with a Full HD Display, enjoy your multimedia content, favourite TV shows and movies in stunning quality. An LED panel is also added with a Vivid picture engine. Screen resolution is 1920×1080.
Refresh Rate :
Recognised Refresh Rate is of 60 Hertz with a 178-degree viewing angle. Image aspect ratio is 16:9.
Colour contrast :
There is a provided image contrast ratio of 40000:1 with an as usual high level of brightness giving images a smooth look.
Sound and Image Quality :
Observe the immersive horizon show with simple yet elegant visuals. Made with LED display Technology provided digital media format of AVI, Blue-Ray, DVD-Video, MPEG and WAV.
Experience the whole range of emotions through 20W stereo speakers with Dolby & DTS HD. Supported Audio format will be mp3 audio, WMA.
Details :
This MI television runs on an Android-based Operating System. There is support for the Mali-450 Mp3 Graphics Coprocessor. RAM Memory Installation Size will be 1 GB. With this model, there will be provided with a Patch Wall Experience that enables the universal search of content available on Netflix, Amazon and many more platforms. You also get all the android tv features like Google Assistant, Chromecast and Data saver.
1. Can we connect laptop or desktop in Monitor?
Yes, you can use the HDMI ports to connect your laptop and use it as a second screen.
2. Can I buy a Xiaomi Mi LED TV at offline stores in India?
Only offline stores where you can get it or see it on display Are the MI home stores. These stores are available in a few major cities but they are growing. Search on Google, maybe it will be available in your city.
3. What is the difference between MI LED TV 4x Pro and MI LED TV 4 Pro both 138.8 Cm?
MI TV 4x Pro is the latest version of MI TV lineup.
MI TV 4x pro has an Android OS along with Google assistant single button on the remote.
Final Verdict On – Top 10 LED TV Brands In India
Personally, I'm a fan of good quality audio. If I am ready to purchase a TV for myself I will choose the one with enormous sound quality.  That's why I will go with Sony Bravia which comes up with 30 Watts of Audio Wattage. Ready impressed with that quality but that's not all. Some of these are one of the Best Budget Smart Tv's In India.
I also liked the Samsung Wondertainment series and OnePlus Y Series. They are giving Promising features in a really low budget and also not to forget both are One of the most popular companies. So you will also get a sense of satisfaction that you will not be scammed. Always remember this is my perspective maybe you wanna go with something else which is totally ok. Hope you find one of them attractive and reasonable to purchase.
So these are some of the Best Led TV's In India. The Ultimate Experience On Top 10 LED TV Brands In India 2021. Hope you all like this article.